After receiving your call our Sales team will visit the site and carry out the site survey and the quotations will be forwarded to you accordingly with all the terms and conditions. Once we have your acceptance for our quote, the contract will be prepared and forwarded to you for signature. We currently provide the following services:
Office Cleaning
We undertake the cleaning of your office premises which will be done before or after office hours as per your convenience. Trained cleaners will be working under the supervision of our Area/Site Supervisor to clean the offices so that when clients staff come for duty they will find clean offices.
Residential Buildings
We undertake contract cleaning for the residential building public areas including the car parks.
Day Cleaners
We provide male and female day cleaners for the office buildings, retail outlets and they will attend the public areas, utility areas and pantries during the day. We also maintain the cleanliness of all the areas during working hours.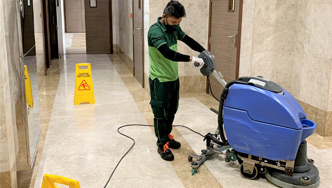 External Glass & Cladding
We undertake cleaning of the external glass and cladding of any building using the access equipment provided by the Client with our well trained window cleaning team. The above services will be available on contract as well as one off basis also.
Office Boys
We provide staff as office boys who will carry out filing, photocopying, serving coffee and tea to the client's guests and inter office distribution of documents. The office boys will know basic English and will read and understand the instructions.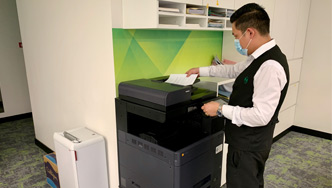 One Off or Call Out Service
L&S has specialized and trained teams who are equipped with a mobile vehicle and can cater to all your cleaning requirements.
The general cleaning services will be provided to the residential villas, apartments and offices, which may be required whenever there is a change of residence or offices. Also the services will be provided after the construction activity to clean the buildings.
This Division is staffed by experienced carpet and upholstery cleaning operatives using European machinery and chemicals, with both dry foam and extraction machines. Before commencing work carpets and /or upholstery are checked for cleaning suitability.
We can also provide one off/call out service for external glass cleaning of the building, marble crystallization and floor polishing(Mosaic or PVC).