Uniformed Security Guarding and Mobile Patrols
Access Control & Reception Services
CCTV Operators
Events Security.
Man Guarding Services
With over 600 DPS (Dept. of Protective Systems) licenced security guards in our team, you can be assured your assets are in safe hands. The Field Management Team ensures regular surprise visits to sites ensuring that guards are alert, vigilant and carrying out their duties in accordance with the job specifications.
Uniformed Security Guards are deployed at sites on contractual and Call out Services. Prior to deployment of security guards, the site is surveyed for Risk assessment, Health, Safety & Hazard, Basic amenities etc. Mobile Patrol Supervisors are entrusted with the task of initially deploying the guard and briefing them on their duties and responsibilities at site.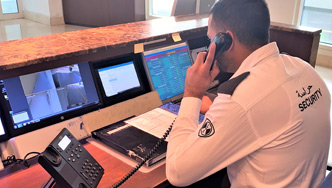 Access Control and Reception Services
Guards detailed at banks and other places where the access is restricted are trained and well-versed in various kinds of access control systems. We ensure that English speaking male and female guards with pleasing personalities and good telephone etiquettes are provided for reception duties.
CCTV Operators
We also provide trained CCTV operators, who are ever alert and always on the look out for anything abnormal. They play a vital role to our banking clients, in preventing fraud and robbery.
Events Security
Lahej & Sultan is licenced by the Department of Economic Development, Government of Dubai to provide security cover for events. We regularly provide our services to events like community gathering, social and musical events and sports events. With our expertise and experienced staff, we ensure that we provide quality service to our clients.