LPG (Cooking) Gas
We have well trained staff and our own fleet of vehicles to cover a wide network for door to door delivery service all over Dubai. We offer supplies on contractual basis and also on telephone inquiry. All our customers are issued instant electronically generated delivery note and invoice ensuring a seamless and efficient supply. We guarantee all our cylinders are filled as per approved civil defence regulation's and weights mentioned.
Propane(BAR-B-QUE) Gas
In addition to LPG distribution, we also refill propane gas for our various customers. All the cylinders are filled strictly in compliance with civil defence regulation's and requirements.
Bulk Gas Supply to Hotels, Restaurants
Lahej & Sultan offers customers high quality Bulk LPG at very competitive pricing with prompt service through our fleet of gas bobtails and gas tankers. We supply bulk gas for Hotels & Restaurants. All our supplies are handled by experienced and well-trained staffs approved by Dubai Civil Defence and are delivered by an extended fleet of vehicles with all safety parameters in place. All our supplies are sourced through authorized government suppliers.
All our Billings are done electronically in order to maximize our clients experience quality and minimize cost and waste.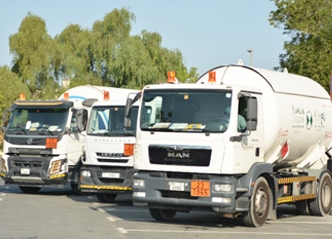 Bulk Gas Supply to Commercial, Residential towers & Labour Accommodations
We also undertake LPG supply to Commercial & Residential building along with labour accommodation. This includes the Gas meter reading, Gas Filling and maintenance of the LPG system for residential buildings, shopping malls, commercial outlets and labour camps. Tenants will be charged at a very competitive rate as per their consumption. All our billings are electronically generated for the ease of clients and have different options for making payments.
Telemetry Devices
All our major customers tanks are fitted with telemetry device which will ensure the clients never run out gas. Our specialized Telemetry monitoring system will allow the clients to monitor the tank level and the gas usage from anywhere in the world.
Decanting
Our tankers are also specially built to decant the tank for the maintenance or revalidation purpose. Lahej & Sultans experienced team of gas experts are fully trained to carry out decanting services.