Lahej & Sultan Security L.L.C an ISO 9001 – 2015, ISO 14001 – 2015 and ISO 45001 – 2018 certified company and is part of the Lahej & Sultan group of companies that has grown over the years and holds a prominent position in the security industry.
The Company is licensed for its activities by the Department of Economic Affairs – Government of Dubai and also by Dubai Police General Headquarter – Department of Protective Systems.
Majority of the Security Guards recruited are from the military/police background from India, Nepal, Sri Lanka, Africa & Bangladesh and only those with clean records, certified and vetted by local law enforcement authorities are selected. All Security Guards are trained and certified in basic Fire Fighting and First Aid. Bank Security Guards are trained in CCTV/DVR operations.
Our 24/7 Security control room ensures that the whole operation runs smoothly and guards are alert on the site. It also provides emergency assistance on the site and ensures reactive action is taken without much loss of time.
Our recruitment, training and staff development process ensures that all our security guards demonstrate:
 Smart and presentable appearance
 Reliability at all times
 A commitment to the highest standard of client care
 Trustworthiness and honesty
 A verifiable employment and educational record
 Good judgment and self discipline
 Ability to work as a team member and work with established procedures
Our client's are assured of our quality service through:
Management/Operations Meetings:
Regular meetings between the Management and the operations team are held to evaluate all client requirements. Through these meetings we continually strengthen and revitalize our approach in protecting the assets and interests of the client.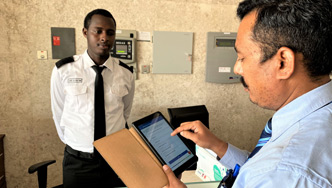 Surprise Inspections
Our Mobile patrol Supervisors constantly visit sites both day and night to ensure that the guards are aware of their duties and responsibilities in accordance with the client's assignment instructions. In addition to the regular inspections our field operations staff make surprise site visits and send feedback to the Management for review.
Documentation
Security Guards and Supervisors are trained to keep daily records and prepare electronic Daily Occurrence Reports all tailored to the requirement of the client. Whenever called for, the Management provides clients with records of training and development.